Latest News
How culture drives 60+ years of success at Chicago's All Seasons
Pool Retail Store-Service-Construction playing harmony
Particularly in the Midwest and Northeastern US (somewhat due to an extremely short season) many swimming pool contractors and service companies also have one or more retail stores with all the divisions supporting each other. All Seasons Pools & Spas (ASPools.com) in Orland Park, IL is a classic example. Begun in 1954 by the current President's (Doug Mayhall) mom and dad and now with a part of the fourth generation involved in the business All Seasons has proven that a strong, customer-oriented retail business can help to support and grow the service business as well as new construction and remodel. All Seasons has a culture of extreme customer service and a sales philosophy (you will note below) that has helped them to be successful for 60+ years! Dan Lenz, VP at All Seasons shared this story that led to the photos and video below, 
"In 2002 we were introduced to this client due to their need for service on an existing portable spa.  Over the next couple of years, that older spa encountered a number of issues, so in 2004 they purchased a new spa from us to replace that old one.  At this time they lived at a different residence, where the spa remained when they moved into a new home, complete with in-ground pool, in 2007.
Having had great experiences with ASPools at the old home and now having become regular customers of our retail store, they chose us to service the existing pool at their new home.  As things sometimes go with service projects, there was a point in 2009 where they were unhappy with work we had done for them.  After we installed a replacement heater for them in a shed that used to house their equipment, I had my first encounter with them.  Early one morning, the day after the heater was installed, I received a phone call from the client.  He was at work when the heater was installed, and when he got home that night, he wasn't pleased with how the heater was installed.  It was early May of that year, our busiest time of the year.  I was having difficulty understanding his complaint, so I decided to stop what I was doing and go meet him that morning at the house.  His complaint was simple, he thought the heater could have been located differently than the old heater and as a result he would gain some additional storage space in the shed.  I explained some limitations with his desires due to clearances, etc., but in the end, if we made a couple of changes he could pick up a little room.  We sent a crew out the next morning to accommodate his request (At no cost to him, even though we probably could have legitimately done so).  I followed up with him the next day by phone to ensure he was happy with the results.
This encounter began the transformation from customer to extended 'Family' member.  We always try to connect to people on a personal level, and it's especially beneficial when there is a potential problem.  At this first meeting with him, I noticed children getting ready for school... all of them right around my kid's ages.  I noticed a basketball hoop in the backyard, pets and school uniforms.  Conversations came up connecting us... how old is your son?  Does he like basketball, no, he's a baseball player?  Oh, my wife and I help run a non-profit athletic association in our town that helps some 400+ kids play baseball.  My son is playing in our Pinto division.  What position does your son like to play?  Next thing you know, the heater was almost the last thing on their mind.  This relationship has continued over the years.  Now the talk is of driving, college prep and such, but the core is still the same.  They ask about my wife and kids whenever I see them, as I do theirs...we always spend a few minutes catching up, then talk about business.  Although our relationship enables ASPools to eliminate competition, as they really have no intention of going anywhere else, I truly believe that it's one born of an honest interest in them.  It's not a gimmick, or a used car salesman's approach to be your best friend.  It can't be - we're here for the long haul.  We want to work for 'friends' because it makes our jobs easier and much more enjoyable.  Watching those kids grow up, knowing them on a more personal level... it all adds to the career, making it so much less a 'job' and so much more an enjoyable part of our life.
They had us build an outdoor kitchen for them in 2011 as the first step towards transforming their backyard.  At the same time they had us remove an old gunite spa that was attached to the pool as well as a small water feature.  While I was working with them on that project, we talked about the potential that their yard had for a major remodeling.
Over the next few years we had a number of conversations about remodeling the yard.  Ever since they moved in there was a drainage issue with the property as a result of poor engineering on the original pool construction.  Every time it rained more than about 1/2", the pool was flooded with muddy runoff water.  It caused him to routinely have to drain the pool, clean it out and refill it during the season.  In the fall of 2013 we had a number of detailed conversations about how ASPools would re-engineer drainage and water flow in the yard, and in conjunction with a significant rebuild, not only correct their constant headaches, but create a new, fully featured resort environment for their family.
We talked at length about what we would do to correct elevations and drainage, and even more about other luxuries that they would like to add.  After gathering all of this info, we provided them with a budget.  Over the next couple of seasons they built up their war chest and in April of this year they decided they were ready and work began.  During an on-site pre-construction meeting just before work began, our salesman, job foreman (who also built their kitchen years earlier) and I were invited into their basement to see their newly built wine cellar and basement remodeling...  proudly giving their 'friends' a tour of another aspect of their life.  And we were thrilled to be their guests.
I stopped by the house and visited with them one afternoon a week or so ago.  As we talked about how much they love and use the backyard, baseball at Cooperstown and college acceptance letters, talk soon moved to more additions.  Next year will bring a new fence, landscape additions and a need for more custom landscape lighting.  Stay tuned..."
BEFORE: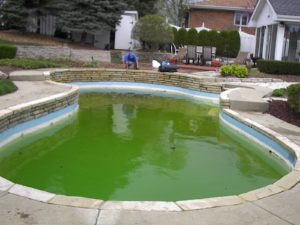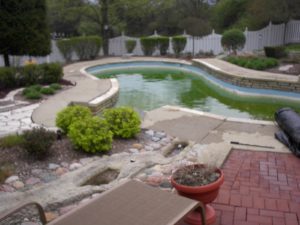 The suggestion to other Carecraft Members from Tom Sekulski, VP at All Seasons (and responsible for retail/purchasing, etc.) is "
to market renovations
.
 Show before and after pictures in your showroom – lots of them. I don't think many customers know they can change the look of their existing backyard with a pool. Display as many features outside of the pool as possible – fire pits, outdoor kitchens decking options, sitting walls, water features. Show night pictures with colored lighting (many customers don't know there are color options other than white). If a customer can't afford a complete renovation, many can upgrade their lighting, which adds quite a bit of flare at night and a nice change to their backyard."
HOW IT HAPPENED AND RESULTS: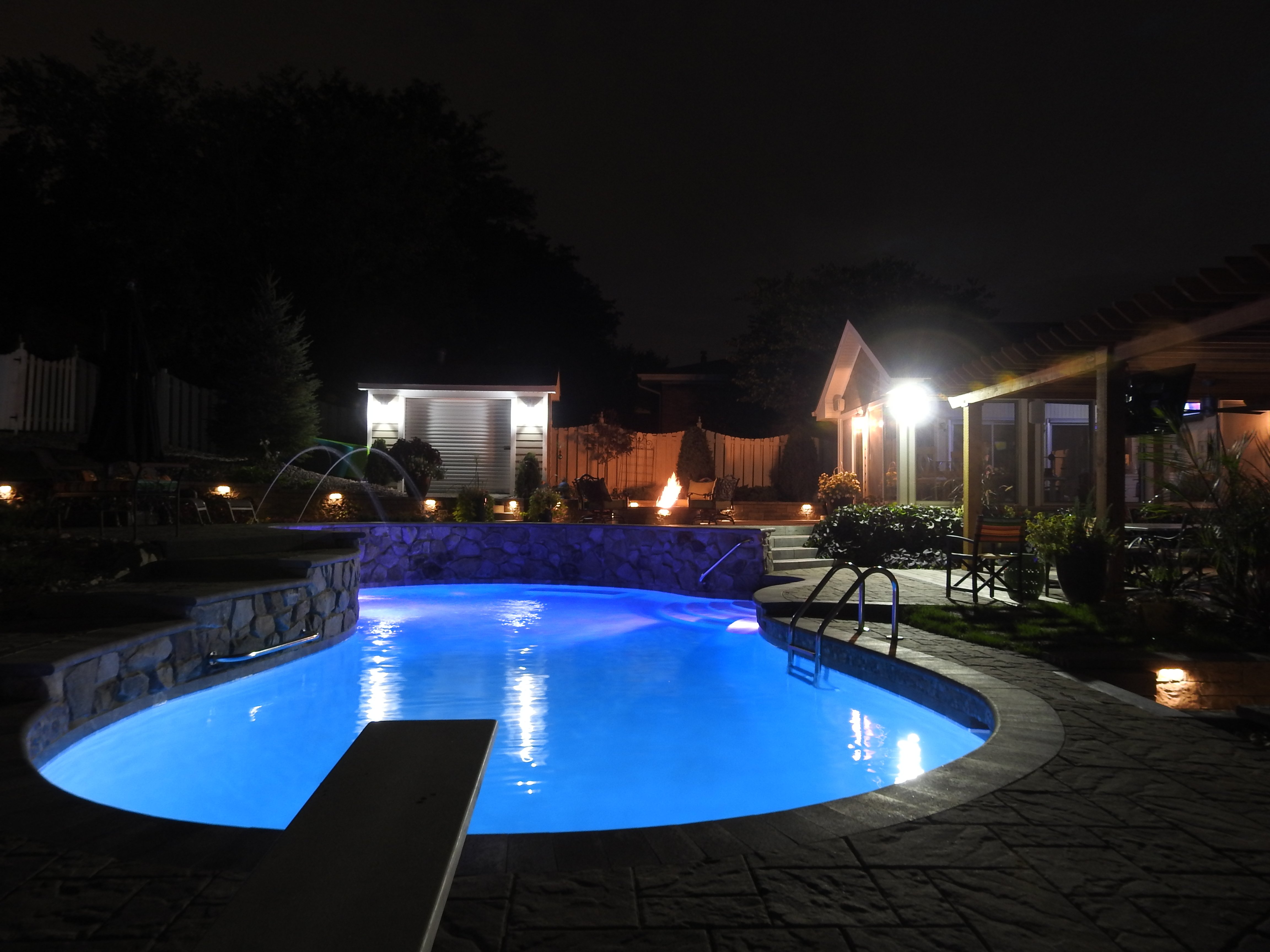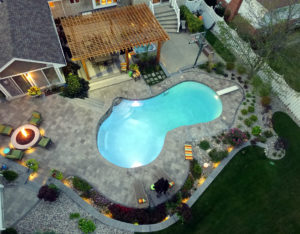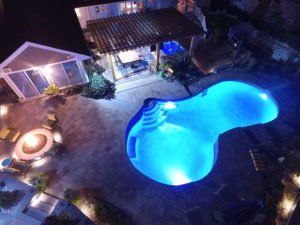 Respectfully submitted, Ken Rogner, Carecraft VP, Networking and Education.