Latest News
Charlotte, NC's premier pool designer/builder on investing in your family
My Home Pool as My Showroom!
Simon Spiers owns Pool by Design in Charlotte, NC, an award winning swimming pool design and construction company that has been featured in a number of area home magazines as well as winning wide acclaim for its creativity.  Simon has opted to make the pool at their home a showplace that can be used as an example of their work and often brings prospective clients there to demonstrate the huge range of possibilities that exist when creating a new or renovated backyard environment.  When asked how that's working, here are his comments to Carecraft:
1. "The pool was built to experiment and discover what unique environments Pool by Design was capable of creating".  It is a continually changing "work in progress".
2. "The pool is used as a display for clients and potential customers. It has many effects and makes our company a participant/consumer as well as a sales agent. Customers visit our home and have some insight into who we are & how we live".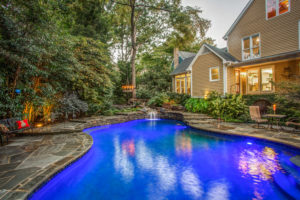 3.This display allows us to explain how the swimming pool is an-add on to the primary structure but looks like it was part of the original design".  
Note: Simon has become known for his ability to blend new construction and amazing backyard upgrades with existing architecture
. 
4."The well-established landscaping hides the equipment and lets clients understand how easy it is to keep the equipment from detracting from the overall beauty".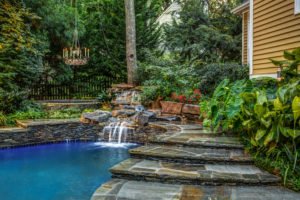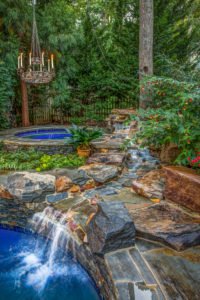 5. Just the fact that I am a pool owner is positive, I live what I sell & build. I do not sell equipment that I have not tested & lived with."
Note:
Here we begin to recognize some of Simon's philosophy of life:
"I am amazed at how many pool equipment reps walk into my office trying to sell their product by telling me how profitable it would be to me. They don't seem to have any concept of the compassion for my customers I have. This may seem conceited but I honestly believe that losing a customer to some of my competitors is a serious disservice to the client.  There are so many inexperienced builders who have no other reason for building pools than just making money.  I believe that my business is an investment in my relationship with my customers/friends and is eventually far more important than a few hundred dollars of profit.  I equate this philosophy to an American restaurant compared to the equivalent in Europe. The Europeans want to give as little as they can get away with. They don't care if the customer comes back. They live for that one-time sale. On the other hand the American restaurants will give you more food than you can eat because they want to impress you and get your repeat business.  American restaurants usually invest in their customers for a long-term relationship."  
Note:  Simon was born in England and emigrated to this country (aboard a sailboat from Gibralter) at age 20.
6. "I have to date, 23 children who have learned to swim in my pool and that makes me very proud and happy".
7. "I test everything possible before putting my name to it.  If the manufacturer doesn't want to make a small investment by giving me a unit to test I don't need to hang my reputation on them. I will sell what meets my standards. The lights in the pictures below are one example.  I was anti LED light for many years because of the many shortcomings.  The new Hayward lights have changed my mind.  I love bringing customers to our house to take a "looksee".  This pool is a very powerful sales tool!"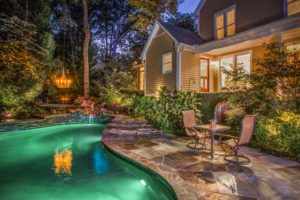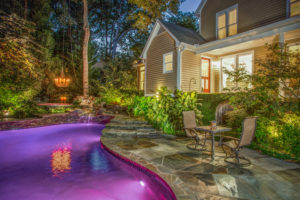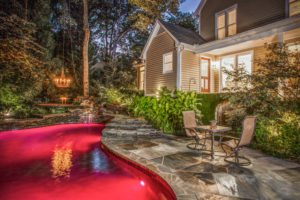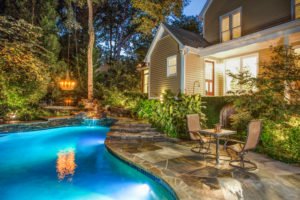 Respectfully submitted, Ken Rogner, Carecraft VP, Networking and Education