Latest News
Not all California pool owners are movie stars...
...some are super stars in another arena!
Pools built for stars in California are not always for movie stars. Chuck Baumann, who is Creative Environments in Alamo, California shared the following story:
"This was one of those dream jobs that comes along once or twice in a career… not that the pool is all that tricky but due to the view and the client, it made this project very, very special. I first received a phone call from Peter Koenig that he was putting a "Dream Team" together for a very special client but none of us were told who the client was. All we were told was a number, 15-LLC, that was given to this project by the money handlers in LA. I was happy with "just a number" but as time went on, everyone on the project was trying to figure out who 15-LLC was."
"This is the first group of pictures… The original designs showed the pool to be a standard pool close to the edge of the slope. After walking the site with the architect, I recommended that we design a pool with a vanishing edge instead of just a standard pool close to a slope."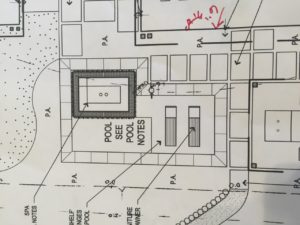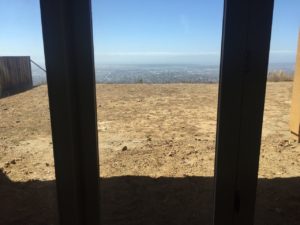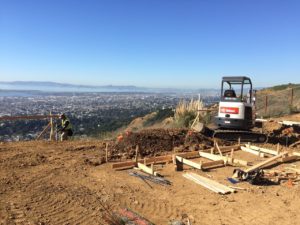 As you can tell in the pictures, the view is a million dollar view…
"Having convinced Peter that we could do a much better job of design and construction given the lot and view, I was given a free hand to improve on the original design.  Not only did we create a beautiful work of art, the pool now enhances the magnificent view!"
"The site was an old quarry in the Oakland hills so the soil was perfect for the engineered free standing pool with a vanishing edge. We designed the VE to be on 3 sides with a spa that was an elevated "O" edge design. To add to this we installed 19 LED lights made by both Jandy and SR Smith."
"When designing and building a pool like this, we always install an in-floor cleaner and our cleaner of choice is the Paramount PCC-2000 in-floor. We not only put the cleaner in the pool but we also install heads in the catch pool to keep the catch pool as clean as possible. The filter and heating system are the Jandy/Zodiac system because we are a Pro Edge builder and we get an extended 3 year warranty on parts and labor when we use their complete system. For the last two seasons we rely completely on the Zodiac RS-8 WiFi controller not only because it's so simple for our clients to install on all of their smart devices but because our start up company keeps the code of the WiFi and can access the pool at any time to trouble shoot and to monitor the clients pool."
"After starting the project, I met the owner and his family, a big sports figure in the Bay Area.  It's none other than the starting player for the Golden State Warriors, Klay Thompson.  Klay took a big interest in his pool and was excited about having a pool in his backyard.  When we began the pool he was only 26 years old and I found him to be one of the nicest young men that I had met in a long time… very polite, unassuming and not impressed with himself.   What I really found interesting about this start athlete was that he had no tattoos…. He is very confident in who he is!"
"As the project progressed, we saw less and less of him due to his being on the road, playing and training with the team.  About a month ago, Peter put out the call to all of us contractors on the job that we needed to get the backyard finished because the Warrior's were headed to the NBA play off's and our client didn't need the distraction of workers in the back yard…. As the Warriors kept winning in the playoffs (a record 15 straight playoff wins), we all worked over time to get the backyard finished."
"I had to add this photo series because another Carecraft Member helped me build this pool for Klay.  That Member is Rob Burkett of Burkett Pools…. I laughed because in all the years that Rob has been plastering my pools, he has never showed up to one of my jobs until the day we plastered Klay's pool… not only did he show up but his right hand man, Shaun also showed up to help plaster the pool for Klay…. I had to take some pictures of both of them with trowels in their hand just to prove they were there…. What a great time we have had building this pool."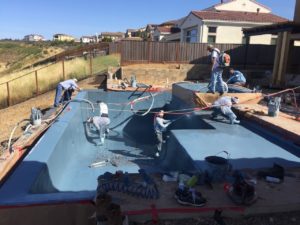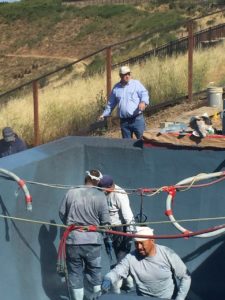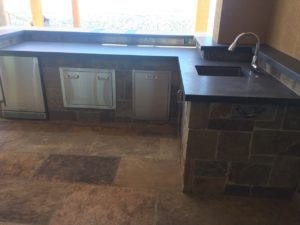 "The best part of the story was that on June 12, 2017, the Warriors beat the Cavaliers in game 5 of the finals and became National Champs! My son Nicco and I were up there on this Tuesday putting the finishing touches on the pool and were met by Klay Thompson to tell us how much he appreciated the great pool we built for him and to take the time to take a picture with my son…. All in all, it was a great project for a great client…"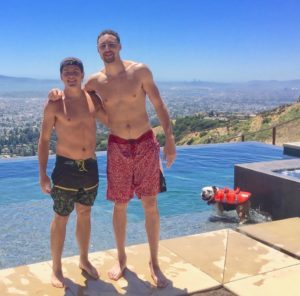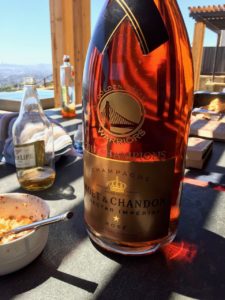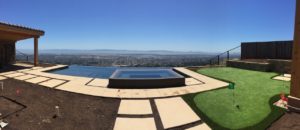 "One more comment on this project…. 38 years ago when I started my swimming pool construction company, I realized that the pool builder of the future was more than just a guy that could build a swimming pool in a back yard… He was a designer that helped create a complete entertainment backyard that enhanced the lifestyle of our clients. Swimming pools have come a long way from the days when my dad started to build pools in 1955 (BTW, we lived just below Klay's house here in Oakland where my dad first started his pool company.. how fitting that I should come and build a pool just above our old neighborhood)."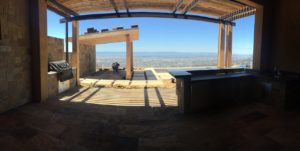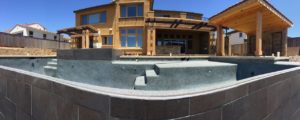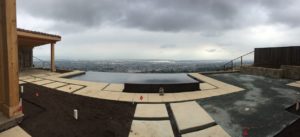 "Today having a pool is all about the lifestyle changes that it brings to our clients!  What we do definitely enhances the lifestyle of those families that use our products… This back yard is the perfect example of having all the entertainment areas to create the perfect backyard for this client. This is the perfect "Creative Environment" backyard…. Hope you enjoyed reading about this project."
Sincerely,
Chuck Baumann
Respectfully submitted, Ken Rogner,  Carecraft VP, Western Region