Latest News
Thanking everyone involved ...
Chuck's amazing remodel project
Chuck Baumann and his team at Creative Environments by Chuck (headquartered in Alamo, CA) have become known for their amazing projects in the San Francisco Bay Area.  Chuck has been a member of the Board of Directors of Carecraft for more than 20 years and was inducted into the "Hall of Fame Pool Builders" in 2002.  Here is his note to suppliers and sub-contractors following the completion of a year-long remodel project,
"Here are the beginning to end photos from the past 10 months. Projects like this take focus and dedication…. when each of us are doing our part, this is what happens. Yesterday afternoon I was too excited to wait until today to start up the pool so I had to see if I could get things going early.…. I was not disappointed when I turned on the switch…. everything worked perfectly. Because it is a pebble finish, I was able to install the Paramount in-floor cleaner and I'm happy to say that the pool was cleaned in a matter of minutes…. Thanks Buzz for creating the very best cleaner in the business. Tom, thanks for building the 3-D model so the homeowner's could see all of what they bought before we even started this job and thanks to Steve for having the switch ready to go so all I had to do was turn it on…. Mandy, your mini lights work perfectly around the floating pads and the spa slot drain area…. Bob, you helped me turn this "pigs ear" into a silk purse by digging the pool perfectly… Jose, your steel and plumbing crew did an excellent job and the hydraulics were perfect…. Aaron, the gunite was perfect and the little details that your crew did sure paid off… Susie… thanks for all the great finish work on the pool and spa… thanks for hanging in there with me to work with my out-of-the-box thinking and one original ideas…. Paul… your Jandy equipment was the perfect match for all the features that we added on this pool (I will miss having you around to call on when ever I have a technical equipment question, however Nick is a great replacement now that you are retiring). This is a perfect job for you to remember, as you ride off on your Harley into to the sunset.  Shaun, once again your team of plasters did the best finish ever… this finish has glass beads, abalone and a great collection of rocks… what a great job your crew did on this one… many thanks… Todd, you will really enjoy servicing this pool… not only is it set up correctly, he homeowner's are some of the very best clients I have ever worked for. Peter, thanks for your finishing touches on plant detail to help Bob with the rest of the backyard.
Finally to my good buddy Bob Gibson… we have created some wonderful masterpieces for some great clients… this one will be put at the top of the list of clients we have worked for.  Your work surrounding this pool is more than just perfect… you are a true artist in every way… I love working with you and your crew and can't wait until we get to make magic again together my friend.
I will be hiring a professional photographer in the very near future and I expect each of you to open up some of our pool trade magazines along with visiting our web site or even receiving a personal copy of Luxury Pools Magazine and see this job…. You all should be proud of the great work we did together, Thanks, Chuck"
Here are the images that Chuck included when he sent the above above note: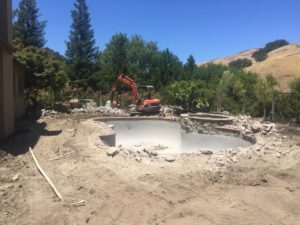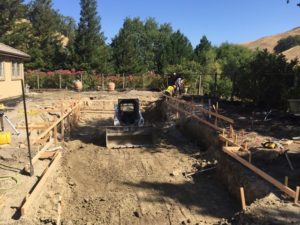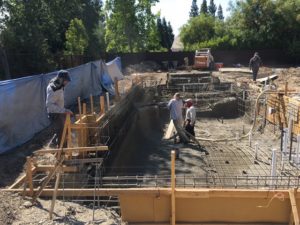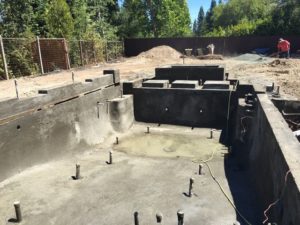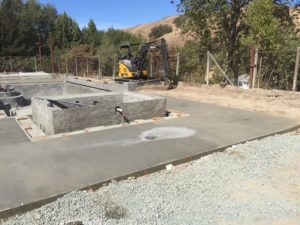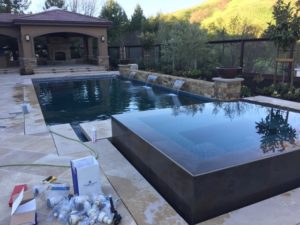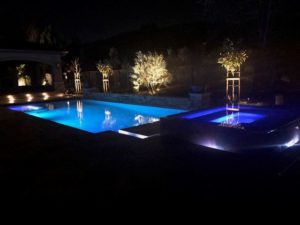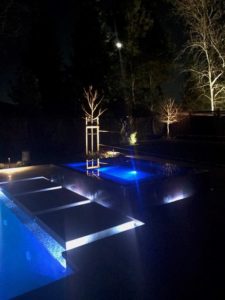 Respectfully submitted, Ken Rogner, VP Carecraft Western Region