Member Spotlight Archive: Riverbend Sandler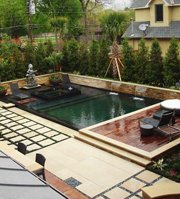 About Riverbend Sandler
In 1981, former marketing and sales manager Charles Barnes started Riverbend Pools and set out to build a company rooted in integrity and attention to detail. In 1994, Travis Bain, a Harvard MBA and professional CEO, purchased Sandler Pools, a company with a quality reputation and an established presence in the area. When the two merged in 1999, two of the largest custom pool builders in the southern United States were joined. Riverbend Sandler Pools is now the seventh largest pool builder in the Southwest, and is ranked among the top ten pool companies in the United States.
Our Mission
With the mission of "Creating Lifetime Pools for Lifetime Customers", Riverbend Sandler Pools remains a family-run company dedicated to the ideals that only a personal commitment can uphold. Through award-winning design, high-tech construction processes, conscientious customer care and on-going support, we pride ourselves on keeping customers for life! That kind of excellence hasn't gone unnoticed! We have been named to both the Aqua 100 Hall of Fame and the Pool and Spa News Top 50-accolades that attest to what over twenty-five thousand satisfied customers already know: that Riverbend Sandler Pools is the industry leader among pool builders in Plano!
As we are committed to continuing education and to staying abreast of developments in industry construction methods, safety regulations and technology, Riverbend Sandler Pools is a proud member of Carecraft, The Association of Pool and Spa Professionals (APSP) and The Better Business Bueau (BBB).