Member Spotlight Archive: Keith Zars Pools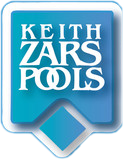 About Keith Zars Pools
Since 1985, Keith Zars Pools has designed and built magnificent custom swimming pools in San Antonio that integrate seamlessly with their natural surroundings. Our breathtaking pool designs and extraordinary craftsmanship blur the lines between indoor and outdoor living and create an oasis of tranquility.
We stake our reputation on fine design, quality craftsmanship and our personal commitment to give YOU, the customer, our absolute best. Our customers' complete satisfaction is our number one priority. We work with you every step of the way to create a unique outdoor environment that is a reflection of your lifestyle. What's more, Keith Zars Pools stands behind every pool we build to ensure total customer satisfaction.
If you would like to learn more about our company, learn about building swimming pools, or see more of our beautiful swimming pool designs, start following us on our social media sites!
We're on Facebook, Pinterest, Houzz, Twitter, LinkedIn and Google+.