Member Spotlight Archive: C&J Contracting, Inc.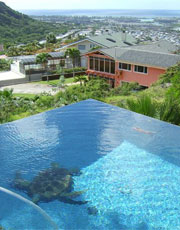 About C&J Contracting, Inc.
C & J Contracting, Inc. also doing business as Pacific Pool & Spa. Contractors license no. C18823. Clifton B. Crawford and James S. Teixeira formed a Hawaii corporation in 1993 together using each other's "strengths". Clifton's sales and organizational skills and James's extensive construction background created an opportunity amicable to both. Combined, they have over 80 years of experience in the state of Hawaii.
Clifton is the President/RME and Jimmy is Senior Vice-President, together specializing in the design and construction of all types of swimming pools and spas, residential and commercial, specialty license class C-49. As Well as masonry class C-31, for all types of concrete work, walls, foundations, sidewalks, and driveways. Furthermore, we are a fully licensed tile contractor, class C-51, preferring exterior work with tile, natural stone, quartzite, slate, flag stone, and travertine. An occasional bathroom and/or kitchen contract does come up as well.
We can accomplish anything with Water. Concrete or Tile. With 15 full time employees. Location: (Oahu) 32 Kainehe St. #101 and (Hilo) Shipman Industrial Park. Servicing all islands.
Two men with experience, working together to provide our customers with the highest quality of service and construction. As well as, to provide our employees an opportunity to have a career and quality lifestyle to meet their needs.