Member Spotlight Archive: Performance Pools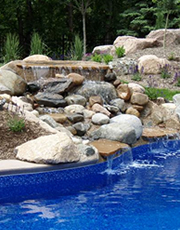 About Performance Pool & Spa
Performance Pool & Spa was founded in 1990 by Terry Moody and Mike Pearson. After gaining years of valuable experience, they decided to expand their horizons in order to accommodate the booming business of swimming pool construction.
Operating out of Moody's garage, they took on a number of projects as subcontractors for other companies. Seeing the potential, Moody and Pearson opened a retail store in Woodbury, MN. The store served as a site to coordinate jobs, as well as a chemical outlet. With the continuing growth and advancing sales, and in only three years, Performance Pool & Spa began to sell and build pools on their own.
Soon, Moody and Pearson opened an additional retail location in Burnsville, MN, to continue to meet growing demand for swimming pools and chemicals. In addition to the Burnsville store, PPS moved its Woodbury location across the highway to a facility nearly three times the size. By 1995, PPS was the largest pool builder in the state, all while operating 100% debt-free. PPS was constructing more pools, without subcontractors, than any other company.