Member Spotlight Archive: Stuart Bauer Pools and Spas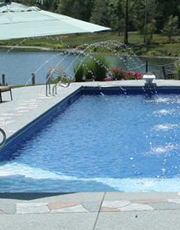 About Stuart Bauer Pools
Stuart Bauer Construction Company was started in 1965 by Stuart Bauer out of his home. At the time Stuart was installing Spartan vinyl-lined pools and concrete foundations for local builders. In 1971, the business moved from his home to the Berry Blvd. location and swimming pools became the primary construction, and the company name changed to Stuart Bauer Pools. In 1981, the business moved to our current location on 7th Street Road. Stuart and his sons built the current building during the winter of 1980. The business was incorporated in 1988, changing the name to Stuart Bauer Pools & Spas, Inc.

Today, after decades, Stuart Bauer Pools & Spas, Inc. have won numerous awards for outstanding craftsmanship and design. We can bring your backyard to a new dimension with a design to fit your life style and budget.
We invite you to view our photos and to find out how and when we can build your DREAM!