Member Spotlight Archive: Hamlin Pools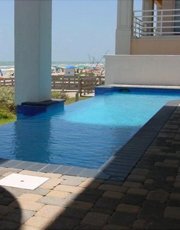 About Hamlin Pools
Since 1952, Hamlin Pools has been family owned and operated, becoming the largest pool builder south of San Antonio. We're proud to be the leading Rio Grande swimming pool builder and remodeler. We've built more than 3,500 swimming pools and we're still going strong.
We started when our grandfather, Francis M. Hamlin, recognized the need for a pool builder in South Texas. He began his career in water treatment, covering a lot of ground from Mexico to Zapata and Corpus Christi, and he began the next phase of his career when he and his wife, Jacqueline, founded Hamlin Pools with a clear vision, strong morals, and the high ethical standards that we maintain today.
We've become the industry leader because of our innovative designs, construction know-how, and extensive network that we've developed during our family history as Rio Grande Valley pool builders. We work hard to live up to those high standards our grandparents set.